FOR IMMEDIATE RELEASE: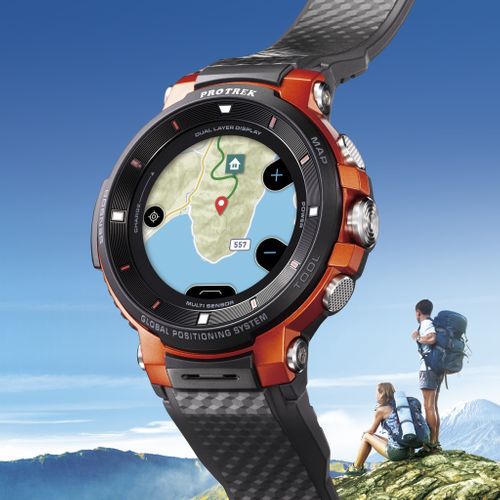 Casio Announces Release Date for PRO TREK Smart WSD-F30 Smartwatch for Outdoor Enthusiasts
Company Signs Partnership with Bikemap, World's Biggest Cycling Map App
DOVER, NEW JERSEY, November 29, 2018
-Today,
Casio America, Inc.
Casio America, Inc. announced today that it has set a January 18, 2019 release date for the
PRO TREK SMART
WSD-F30 smartwatch for outdoor enthusiasts. The original announcement of the WSD-F30 caused a stir and captured eight awards this summer at IFA 2018, one of the world's largest trade shows for consumer electronics and home appliances. In addition to its water resistance up to 50 meters, military specification construction, and offline map functionality, the promised WSD-F30 received strong praise for its proprietary energy-saving mode using a new dual-layer monochrome and color display. Also, on January 18, Casio will release the WSA-BX1 extra-long cloth band, an optional accessory for the WSD-F30. Just swap it for the regular WSD-F30 band and wear the watch easily over the sleeve of a rugged jacket. Casio also announced a partnership with Bikemap, the world's biggest cycling map app. Now, PRO TREK Smart owners can use the Bikemap app to download maps and routes in advance to their smartwatch. Cyclists can then enjoy access to useful information maps and routes from the wrist, even when offline and not connected to a smartphone. The
WSD-F30
automatically synchronizes with the Bikemap app to save records of cycling activity, including information such as the route, speed, distance, and time. Moving forward, Casio and Bikemap will actively promote each other under the partnership. For additional information on Casio's PRO TREK Smart collection of timepieces, please visit
https://wsd.casio.com/us/en/
About Bikemap
With more than 1.6 million app downloads, Bikemap is the world's biggest cycling map app featuring online and offline maps. Detailed maps cover cities around the world and include essential information for cyclists such as bike repair shops, restrooms, and ATMs. Users have contributed more than four million reviews of their cycling experiences to share with other users. Developer: Bikemap GmbH (based in Austria) About PRO TREK Smart
Casio's PRO TREK Smart line of watches is geared for outdoor enthusiasts. Powered by Wear OS by Google, these timepieces are equipped with a variety of features ideal for outdoor adventures including GPS, Location Memory, Moment Setter, and more. These timepieces also boast Casio's Triple Sensor technology, in addition to a dual-layer LCD and water resistance. Casio's PRO TREK Smart line offers rugged, stylish and versatile timepieces with features that enhance any outdoor experience. For additional information on Casio's PRO TREK Smart line of timepieces, please visit: http://wsd.casio.com/us/en/. About Casio America, Inc.
Casio America, Inc., Dover, N.J., is the U.S. subsidiary of Casio Computer Co., Ltd., Tokyo, Japan, one of the world's leading manufacturers of consumer electronics and business equipment solutions. Established in 1957, Casio America, Inc. markets calculators, keyboards, digital cameras, mobile presentation devices, disc title and label printers, watches, cash registers and other consumer electronic products. Casio has strived to fulfill its corporate creed of "creativity and contribution" through the introduction of innovative and imaginative products. For more information, visit www.casio.com.