FOR IMMEDIATE RELEASE:
CASIO HELPS STUDENTS PREPARE FOR THE NEW SAT AND OTHER COLLEGE EXAMS
Casio's Portfolio of Graphing and Scientific Calculators Offer Comprehensive Feature-Set Making Them Essential Tools for Students
Dover, NJ, January 28, 2016
- 2016 has only just begun and
Casio America, Inc.
is already looking ahead to college exams and preparations. With the SAT undergoing its biggest change in 30 years and debuting this March, Casio's extensive line of graphing and scientific calculators are the ideal tools to help students prepare. According to the The College Board
1
, the new SAT test will include a greater focus on foundational math skills, with specific emphasis on problem solving and data analysis, heart of algebra, and passport to advanced math. "Casio knows that students are under incredible stress when studying for college exams, and our extensive line of graphing and scientific calculators makes test-taking as seamless as possible," said Yuji Sasajima, Vice President of Casio's Consumer Product Division. "Whether students are taking the SAT, ACT, or both, Casio is dedicated to providing students with tools that are approved for standardized tests and equipped with forward-thinking technology to help students prepare and excel."
Scientific Calculators
Designed for helping students excel in math, Casio's line of
fraction and scientific calculators
are the perfect tools for standardized testing. Key options from this line include the ClassWiz
fx-991EX
, the
fx-260
, and the
fx-300ESPLUS
. The ClassWiz
fx-991EX
is the industry's first scientific calculator with spreadsheet functionality, which enables students to create spreadsheets with up to five columns and 45 rows. It also boasts a high-resolution screen and comes equipped with natural textbook display, which means that mathematic equations and formulas are displayed just as they would appear in a student's textbook. The
fx-260
is an all-purpose scientific calculator with 144 built-in functions. Available in both pink and black, this model is small and convenient enough to slip inside a student's backpack, but strong enough to solve polynomial and trigonometric equations. Casio's
fx-300ESPLUS
is a standard scientific calculator that comes in black, blue and pink. With 249 built-in functions and natural textbook display, this model is designed for high school students who are focusing on anything from general math to physics.
Graphing Calculators
Casio's
fx-9750GII
graphing calculator comes equipped with all of the standard features of an entry-level
graphing calculator
, and is geared for students in middle school, high school, and even college. Its icon-based menu is easy to navigate and access functions for a variety of common tasks. The fx-9750GII also offers USB connectivity, AP Statistics, pie charts and bar graphs features. In addition, the fx-9750GII is permitted for use on all major exams, and is available in blue, pink and white.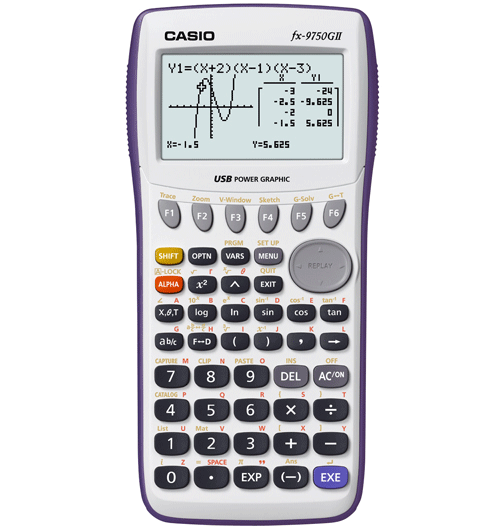 For additional information on Casio's full portfolio of calculators, please visit
www.CasioEducation.com
.
About Casio America, Inc.
Casio America, Inc., Dover, N.J., is the U.S. subsidiary of Casio Computer Co., Ltd., Tokyo, Japan, one of the world's leading manufacturers of consumer electronics and business equipment solutions. Established in 1957, Casio America, Inc. markets calculators, keyboards, digital cameras, mobile presentation devices, disc title and label printers, watches, cash registers and other consumer electronic products. Casio has strived to fulfill its corporate creed of "creativity and contribution" through the introduction of innovative and imaginative products. For more information, visit www.casio.com.
1. The College Board, (Web. 22 Jan. 2016). "Key Content Changes." https://collegereadiness.collegeboard.org/sat/inside-the-test/key-changes