FOR IMMEDIATE RELEASE: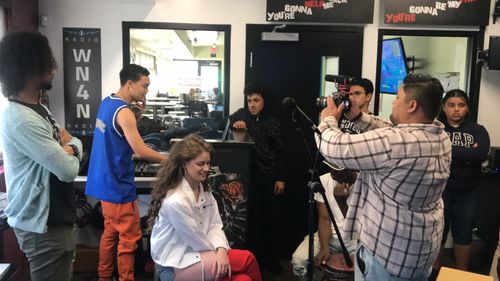 CASIO, NOTES FOR NOTES AND DISNEY/OWN STAR ROSHON FEGAN HOST SPECIAL MUSIC WORKSHOP
Roshon Teaches Youth How to Create and Perform Their Own Original Song on Casio's Latest CT-X3000 Keyboard
DOVER, NJ, May 2, 2018
- Casio America, Inc. joined forces with national non-profit organization Notes for Notes and Disney/Own star Roshon Fegan to host a special, after-school, youth music workshop on April 27th. During the workshop, Roshon taught children how to create and perform their own original song using Casio's new CT-X3000 keyboard. "At Casio, we feel it is our responsibility to educate the next generation of musicians," said Stephen Schmidt, Vice President of Casio's Electronic Musical Instrument Division. "We couldn't pass up the opportunity to team up with Notes for Notes and Roshon, who is a Casio artist, to help teach children how to create and perform music. The chance to learn from a talented artist such as Roshon is an experience these children will carry with them for the rest of their lives and we are honored to be a part of it." Notes for Notes™ (N4N™) is a 501(c)3 non-profit organization that designs, equips and staffs after-school recording studios inside Boys & Girls Clubs offering youth the opportunity to explore, create, and record music free of charge. At the core of the organization is a focus on putting youth on positive paths with music as the first step, as numerous studies have shown that children who have access to musical education perform better academically and socially. "We are very grateful to Roshon and Casio for their passion and commitment to helping us enrich children's lives in our community by giving the gift of music," said Raymond Jacob, Chief Operating Officer of Notes for Notes.
Casio's CT-X series of keyboards
features advanced specifications for serious beginners to seasoned performers and players. All models feature the new AiX Sound Source which leverages expertise that Casio accumulated in developing sound sources for its digital pianos. The AiX Sound Source allows the CT-X keyboards to faithfully reproduce the appealing sound of acoustic instruments such as guitars, drums, basses, brass, wind instruments, string ensembles and more. The CT-X series provides high-performance Digital Signal Processor (DSP) effects that combine various algorithms to realize the perfect effect for each instrument sound. The CT-X3000's stunning instrument tones are perfect for beginners or advanced players that need an affordable and portable instrument. To learn more about Casio's full portfolio of electronic musical instruments, please visit
www.casiomusicgear.com
About Casio America, Inc.
Casio America, Inc., Dover, N.J., is the U.S. subsidiary of Casio Computer Co., Ltd., Tokyo, Japan, one of the world's leading manufacturers of consumer electronics and business equipment solutions. Established in 1957, Casio America, Inc. markets calculators, keyboards, mobile presentation devices, disc title and label printers, watches, cash registers and other consumer electronic products. Casio has strived to realize its corporate creed of "creativity and contribution" through the introduction of innovative and imaginative products. For more information, visit www.casio.com.