FOR IMMEDIATE RELEASE: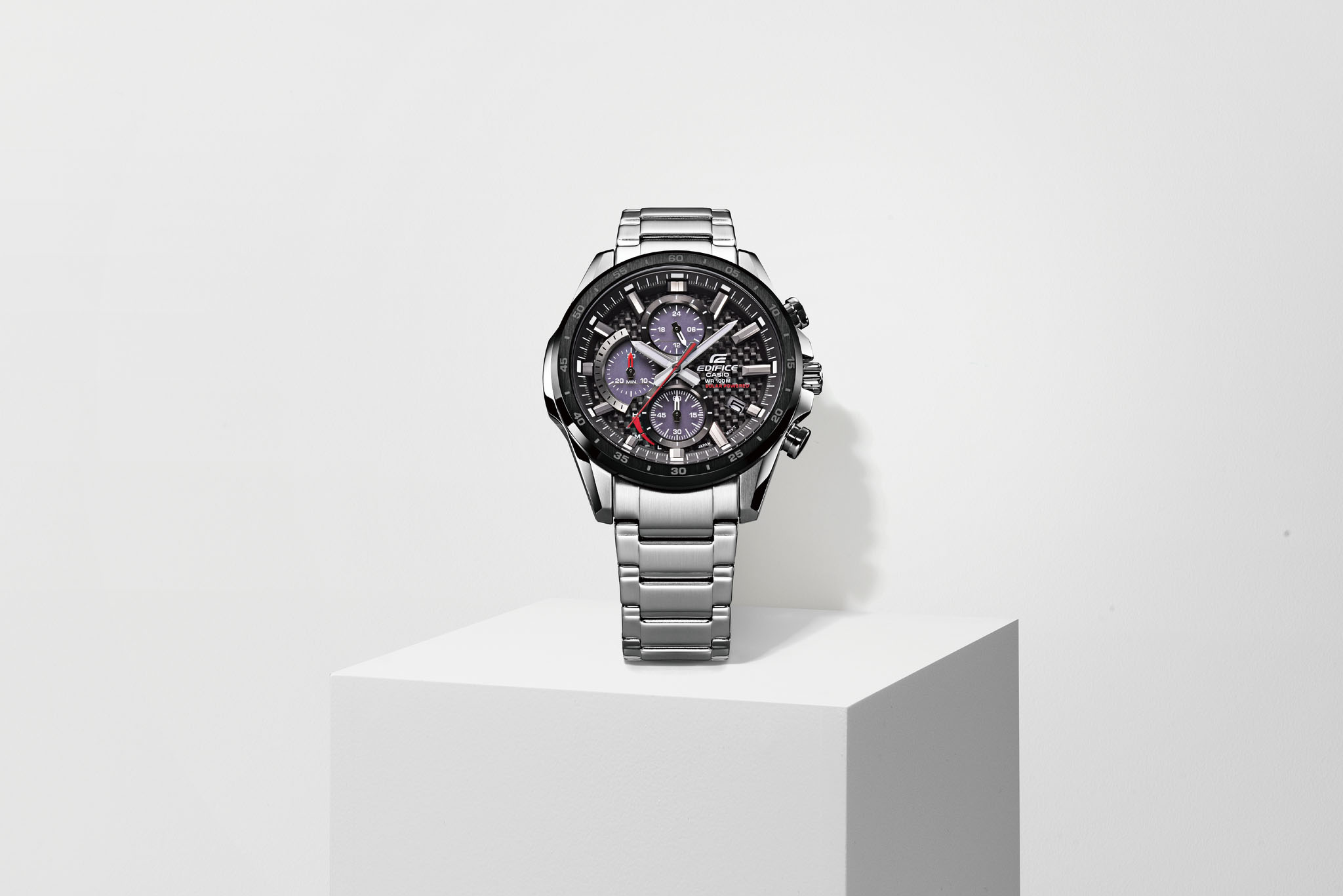 CASIO UNVEILS LATEST TIMEPIECES AT BASELWORLD 2018
Models Feature Updated Technology and Innovative Styles Across G-SHOCK, Edifice, and G-MS
MESSE BASEL, SWITZERLAND, MARCH 22, 2018
-Today, Casio America, Inc. presents several new timepieces across the company's brands, including G-SHOCK, Edifice, and G-MS. Casio continues to expand on Bluetooth connectivity this year while offering superior, timeless and durable watches. The latest models will be on display at Baselworld from March 22-24 at the Casio booth located in Hall 1.1 B67, B71. "We're excited to return to Baselworld this year where we'll be displaying the latest timepieces across our top brands," said David Johnson, Vice President of Casio's Timepiece Division. "We're continuing to innovate with technology and performance, specifically in regards to Bluetooth connectivity, and these watches are just the latest representation of Casio's efforts." New product highlights include:
G-SHOCK MRGG2000HA-1A
The latest collaboration with third generation master craftsman Biho Asano, this special edition men's MR-G model was inspired by the unique texture found on the hilt guard of traditional Japanese swords. To achieve this one-of-a-kind look, Asano individually hammered each bezel, resulting in an artistic, titanium sword guard finish on every watch. Additionally, this textured hammer tone is applied to the inner band parts and the colors featured on the bezel and band boast shades of copper and deep violet found on the handle of Japanese swords. The MRGG2000HA-1A timepiece also includes premium features such as three-way time sync, made possible via Bluetooth Connectivity and the G-SHOCK app, as well as G-SHOCK's GPS Hybrid Wave Ceptor technology, which accurately measures time and location from anywhere on earth. The MRG2000HA-1A also features a sapphire crystal, titanium case and band with a special deep-layer hardening treatment – rendering it five times harder than regular titanium, and tough solar technology for self-charging capabilities.
G-SHOCK MTGB1000-1A
Part of G-SHOCK's luxury MT-G men's collection, which is known for its metal and resin-hybrid construction, the MTGB1000-1A features a polished look, complete with a redesigned core guard box frame, which yields a 1.11mm slimmer and 1.58mm smaller case width. In addition, a new band structure composed of urethane and fine resin is affixed to one other by screws, then securely affixed to the case with metal parts. The model also comes with premium features such as two-way time sync made possible via Bluetooth Connectivity and a dedicated G-SHOCK app, as well as G-SHOCK's Multi-Band 6 Atomic Timekeeping Technology, which provides accurate timekeeping virtually anywhere via radio signals from up to six different transmitters worldwide. The MTGB1000-1A also features a sapphire crystal to protect against scratching and tough solar technology.
G-SHOCK GMWB5000
The Full Metal 5000 is a brand new, specially crafted all-metal timepiece. Inspired by the first G-SHOCK model, DW5000C, this upgraded original boasts a modern, lustrous, colorway while maintaining a vintage aesthetic. The watch also incorporates one of the first and most iconic G-SHOCK case designs, featuring a vintage, square shape case & bezel with a brick pattern on the face. The GMWB5000D-1 incorporates a super illuminator LED light and solar battery – rendering it capable of self-charging, as well as a special STN LCD. In addition, the timepiece incorporates an upgraded, stylish, full stainless steel housing and DLC screw-back case. Two-way time sync is made possible via Bluetooth Connectivity and the G-SHOCK app, as well as G-SHOCK's Multi-Band 6 Atomic Timekeeping technology, which provides accurate timekeeping virtually anywhere via radio signals from up to six different transmitters worldwide.
G-SHOCK GRB-100
This series, geared specifically towards aviation professionals, is the latest GRAVITYMASTER to boast connected Bluetooth capabilities via the G-SHOCK app, featuring a flight log with a 5-schedule display and countdown alarm as well as a two-tone layered band. The watch also comes equipped with standard G-SHOCK technology of 200M water resistance and shock resistance, a full auto LED light, 1/1000th second stopwatch and multi-function alarm, 1/10th second countdown timer, full auto calendar, world time (with 39 time zones / 39 cities + UTC) and 12/24 hour formats.
EDIFICE ECB800DB-1A
The ECB800DB-1A, part of Casio's EDIFICE line of men's timepieces, includes dynamic features in its stylish design. Featuring Casio's Connected technology, the ECB800DB-1A is connected via the dedicated Edifice Connected app and Smartphone Link capability, which means that this timepiece will automatically pair with the wearer's smartphone by pressing a dedicated Bluetooth® connection button. An Accurate Time System automatically connects to the internet via the wearer's smartphone four times a day to acquire timekeeping information and keeps the watches time, time zone and DST settings accurate. In addition, Tough Solar functionality enables the timepiece's batteries to charge via a shadow dispersing solar panel on the watch. Other features on the dynamic ECB800DB-1A include a speed indicator, target time indicator, Phone Finder, Super Illuminator, one-push reset, 300-city world time, and water resistance up to 100 meters, and more.
G-MS MSGS200
The newest addition to Casio's BABY-G line of timepieces is the G-MS MSGS200. Created with style in mind for the sophisticated woman, the MSGS200 showcases a fashion-forward slim 12.3mm, compact design with stainless steel bezel and resin band. Features of the MSGS200 include shock resistance, 100M water resistance, Super Illuminator LED light, solar powered battery, world time (with 31 time zones / 48 cities), daily alarm, and more.
About G-SHOCK
CASIO's shock-resistant G-SHOCK watch is synonymous with toughness, born from the developer Mr. Ibe's dream of 'creating a watch that never breaks'. Over 200 handmade samples were created and tested to destruction until finally in 1983 the first, now iconic G-SHOCK hit the streets of Japan and began to establish itself as 'the toughest watch of all time'. Each watch encompasses the 7 elements; electric shock resistance, gravity resistance, low temperature resistance, vibration resistance, water resistance, shock resistance and toughness. The watch is packed with Casio innovations and technologies to prevent it from suffering direct shock; this includes internal components protected with urethane and suspended timekeeping modules inside the watch structure. Since its launch, G-SHOCK has continued to evolve, continuing to support on Mr. Ibe's mantra "never, never give up." www.gshock.com.
About Casio America, Inc.
Casio America, Inc., Dover, N.J., is the U.S. subsidiary of Casio Computer Co., Ltd., Tokyo, Japan, one of the world's leading manufacturers of consumer electronics and business equipment solutions. Established in 1957, Casio America, Inc. markets calculators, keyboards, mobile presentation devices, disc title and label printers, watches, cash registers and other consumer electronic products. Casio has strived to realize its corporate creed of "creativity and contribution" through the introduction of innovative and imaginative products. For more information, visit www.casio.com.
About EDIFICE
Casio's EDIFICE collection reflects a distinct sense of style by providing men with features that are ideal for professional and weekend lifestyles. The collection speaks to upwardly, mobile men whose goals lie anywhere from the boardroom to the ballpark. With a variety of aristocratic, sleek styles, Casio's EDIFICE timepieces possess features including multi-layered dials, world time, daily alarms, and more. Made with strong, comfortable band materials of resin and stainless steel, each style exudes an attractive, sophisticated look. For additional information on Casio's EDIFICE line of timepieces, please visit www.EDIFICE.Casio.com.
About BABY-G
Casio's female timepiece brand, BABY-G, was created as a counterpart to its "big brother" G-SHOCK in 1994. The brand exemplifies the meeting of fashion and function for the vibrant, active woman with watches that are stylish, bold, tough and chic. Equipped with the same great functionality that G-SHOCK is known for, BABY-G timepieces are shock and water resistant with multiple daily alarms and stopwatch functions. The brand has partnered with some of the hottest names in music, fashion and pop culture on standout watch collaborations including Ke$ha, Rebecca Minkoff, Joyrich and Married To The Mob. For additional information on Casio's BABY-G line of timepieces, please visit www.baby-g.com.