FOR IMMEDIATE RELEASE: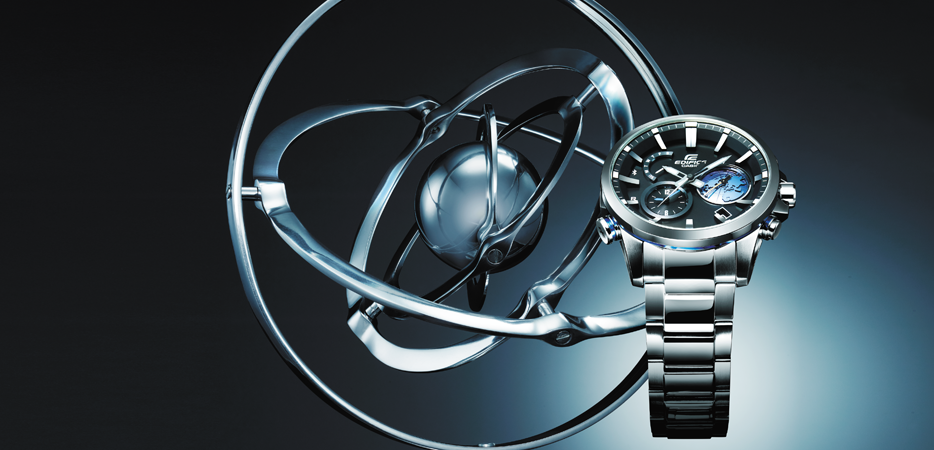 CASIO UNVEILS NEWEST EDIFICE TIMEPIECE WITH SMART PHONE LINK TECHNOLOGY
EQB-600D-1A2 Offers Intelligent Features and Adds to Collection's Bold Style
Dover, NJ, May 12, 2016
-
Casio America, Inc.
is excited to announce its latest
EDIFICE men's timepiece
- the
EQB-600D-1A2
. The new timepiece adds an essential combination of bold design and functionality to any man's daily life. Engineered with a Smart Phone Link, Tough Solar Power, 3D Globe Dial and water resistance up to 100 meters, Casio's EQB-600D-1A2 is the ideal accessory for a boardroom meeting or a relaxing day at home. "We are proud to introduce the EQB-600D-1A2 which builds on the rich feature-set and unique design the EDIFICE Collection is known for," said David Johnson, Vice President of Casio's Timepiece Division. "This new timepiece provides a stylish, yet practical solution to meet the needs of the on-the-go lifestyle of consumers who are looking for an all-encompassing timepiece with cutting edge technology."
3D Globe Dial Enables Dual Time
This timepiece's main dial displays the Home Time (the time and date of the user's current home city), while the inset dome-shaped dial displays the current time zone in the selected World Time city in a 24-hour format over a world map. This 3D globe dial, installed at the 3 o'clock position, rotates once a day in time with Earth's rotation, with a small round hand indicating the time zone of the selected World Time city. The EQB-600D-1A2 has a high-torque dual-coil motor that provides the power to drive the 3D globe dial. While reproducing an image of the earth's rotation on the dial, it changes settings with smooth movements.
Bluetooth® SMART Connection Button
The EQB-600D-1A2 can connect to a smartphone with just a push of a button through Casio's Mobile Link Technology. A dedicated Bluetooth® connection button is installed at the 8 o'clock position. Built large for easy operation, it is identified by a Bluetooth® mark on top. Linking to a smartphone is a very simple operation. By downloading the CASIO WATCH+ app and connecting to a compatible smartphone via Bluetooth® SMART, the watch can access the correct time in its current location and for over 300 cities worldwide, even correcting for Daylight Saving Time if needed. Users also have the capability to swap the specified home time and world time with the press of a button, as well as correct alarms and other time settings. Additionally, the phone finder function provides the ability to help find a lost device by connecting to it and having it emit a sound to help find its location, even if the phone is on silent.
Tough Solar Power
The new EQB-600D-1A2 features Casio's Tough Solar Power which eliminates the need for battery changes. After a full-charge and without further exposure to light, the EQB-600D-1A2 has a battery life of approximately seven months. The timepiece also has a special power save feature that enables it to power down when not exposed to light for a certain period of time which helps to further conserve energy. The eco-friendly, solar battery-powered timepieces can be charged even in low or fluorescent light. The EQB-600D-1A2's dual layered bezel of stainless steel and aluminum along with a 3D dial with discernible edges is mounted on a metal case. Beauty communicating an overflow of strength and intelligence is compressed in its simple confident styling. In addition to the 3D globe, there are molded 3D time indicators combining straight and curved lines which have been produced in molds made using Yamagata CASIO's micro-fabrication technologies. A slanted surface representing a curve has been modeled to emphasize the dial's appearance of depth. Casio's EDIFICE EQB-600D-1A2 will be available at select jewelry and watch retailers nationwide in June for a MSRP of $400. For additional information on Casio's EDIFICE collection of timepieces, please visit
www.EDIFICE.Casio.com
.
About EDIFICE
Casio's EDIFICE collection reflects a distinct sense of style by providing men with features that are ideal for professional and weekend lifestyles. The collection speaks to upwardly, mobile men whose goals lie anywhere from the boardroom to the ballpark. With a variety of aristocratic, sleek styles, Casio's EDIFICE timepieces possess features including multi-layered dials, world time, daily alarms, and more. Made with strong, comfortable band materials of resin and stainless steel, each style exudes an attractive, sophisticated look. For additional information on Casio's EDIFICE line of timepieces, please visit www.EDIFICE.Casio.com.
About Casio America, Inc.
Casio America, Inc., Dover, N.J., is the U.S. subsidiary of Casio Computer Co., Ltd., Tokyo, Japan, one of the world's leading manufacturers of consumer electronics and business equipment solutions. Established in 1957, Casio America, Inc. markets calculators, keyboards, mobile presentation devices, disc title and label printers, watches, cash registers and other consumer electronic products. Casio has strived to realize its corporate creed of "creativity and contribution" through the introduction of innovative and imaginative products. For more information, visit www.casio.com.