FOR IMMEDIATE RELEASE: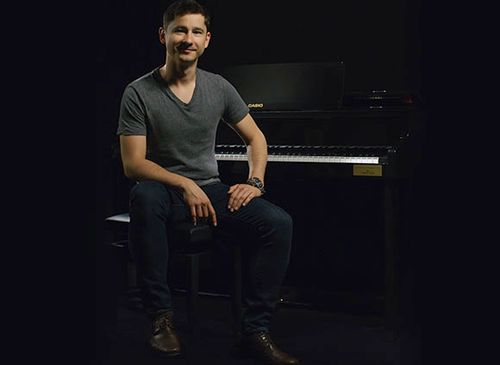 CASIO'S JANUARY ARTIST SPOTLIGHT: ELDAR DJANGIROV
Eldar Currently Recording New Album and Music Video
DOVER, NJ, January 26, 2017 - This January, Casio America, Inc., a leading innovator of electronic musical instruments, is delighted to highlight the remarkable pianist Eldar Djangirov, as part of its Artist Program. Casiou2019s Artist Program looks to assist both aspiring and established musicians by providing multiple levels of support including the best tools available to musicians, allowing them to easily fulfill their love and passion for music.
New York based and Grammy nominated artist Eldar began playing at a very young age and is well known for his prodigious technique and extensive knowledge of composition and musical language. He is currently compiling the second volume of his unparalleled collection of live trio and solo performances entitled "World Tour Vol. 2." The preceding work – "World Tour Vol. 1" – was released in 2016 and is a selection of takes and clips from his time touring in Philadelphia, Windham, Tokyo, Montreal, Atlanta, Washington D.C., Tongyeong, San Diego and Oakland. "The Casio Artist Program was developed to help artists, like Eldar, produce and create some of their finest work by providing them with the most advanced tools and technology," said Stephen Schmidt, Vice President of Casio's Electronic Musical Instrument division. "Eldar is an extremely gifted artist with a deep passion for his trade and Casio is honored to be a part of his musical journey!" In addition to working on his new album, Eldar is also in the process of filming and putting together a new video, featuring various Casio products. The music video, which will debut on his YouTube channel in February, will showcase different sound arrangements of the same song using the
CELVIANO Grand Hybrid piano
, the Privia
PX-560
digital piano and the
MZ-X500
. "Showcasing these three different Casio products in my new video will really show how different technologies produce different sounds to create unique and inspiring textures," said Eldar. "The Grand Hybrid features the most amazing piano sounds and is the closest thing to real piano action, weight and feel that I have come across. The Privia PX-560 has great electric piano and synth sounds, while the MZ-X500 is both lightweight and customizable." Eldar is part of the current roster of Casio artists including Tom Brislin, Jonatha Brooke, Kyle Morrison, Steve Weingart and more. For additional information about Casio's Artist Program or portfolio of electronic musical instruments, please visit
www.CasioMusicGear.com
About Casio America, Inc.
Casio America, Inc., Dover, N.J., is the U.S. subsidiary of Casio Computer Co., Ltd., Tokyo, Japan, one of the world's leading manufacturers of consumer electronics and business equipment solutions. Established in 1957, Casio America, Inc. markets calculators, keyboards, mobile presentation devices, disc title and label printers, watches, cash registers and other consumer electronic products. Casio has strived to realize its corporate creed of "creativity and contribution" through the introduction of innovative and imaginative products. For more information, visit www.casio.com.