FOR IMMEDIATE RELEASE: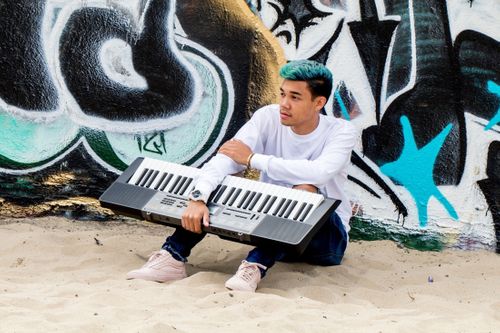 CASIO'S OCTOBER ARTIST SPOTLIGHT: ROSHON
Rising Star Currently Promoting New Single "Questions"
DOVER, NJ, October 10, 2017
- This month,
Casio America, Inc.,
a leading innovator of electronic musical instruments, is thrilled to spotlight
Roshon Fegan
as part of its Artist Program. Casio's Artist Program supports aspiring and established musicians by providing them with the most innovative tools and technology to compose and perform their music, whether they are in the recording studio, performing on stage, or traveling on tour. As an actor, dancer and music songwriter/producer/performer, Roshon is a triple threat in the entertainment industry and one of the hottest up-and-coming stars of this generation. Raised in Los Angeles, Roshon studied at the USC 32nd Performing Arts School. Growing up, he taught himself how to play the piano, drums and guitar. Roshon gained worldwide attention as a young television star on the hit show Shake It Up. Other career highlights include starring in Camp Rock (1 and 2), competing on Dancing with the Stars, and most recently a dramatic role playing the character Isaiah on the hit show GreenLeaf on the Oprah Winfrey Network for which he was submitted for an NAACP Image Award. "Being part of Casio's family of artists is a natural fit for me because I've always used Casio keyboards," said Roshon. "Not only is the Company supportive, they are also holding down the fort for a new generation of creators and I'm proud to be a part of that." Roshon currently owns two Casio keyboards that have become a staple in all that he does musically. In particular, Roshon prefers to use the
PX-5S
and
LK-265
in his musical development and creation process. His music has a R&B/Hip Pop sound and is heavily inspired by industry game changers like Michael Jackson, Pharrell and Prince. To enhance his sound and overall portfolio of work, Roshon is collaborating with Christopher Alan "Tricky" Stewart – a Grammy Award winning record producer, songwriter, executive producer, and music publisher – on his next album slated for later this year. In the meantime, fans should keep an ear out for Roshon's new single "Questions" which will drop this month. "It's been truly amazing to see Roshon grow as an artist and performer over the years," said Stephen Schmidt, Vice President of Casio's Electronic Musical Instrument division. "His ever-evolving talent, dedication to music and support of our brand are just a few reasons we're proud to call him family. We are happy we can provide him with the finest keyboard technology to continue helping him create and inspire the next generation of musicians." Roshon is part of the current roster of
Casio artists
including ThunderSOUL Orchestra, Rachael Sage, Aaron Todd, Tom Brislin, Eldar Djangirov, and more. For additional information about Casio's Artist Program or portfolio of electronic musical instruments, please visit
www.CasioMusicGear.com.
For serious artist and songwriters only seeking songs/production inquiries please contact Roshon's team:
contactelevatemvmnt@gmail.com
Learn more about Casio America, Inc and its products.
Learn more about Casio Music Gear and its products.