FOR IMMEDIATE RELEASE:
GET YOUR GEEK ON WITH CASIO DURING NATIONAL TECHIE DAY
Casio's Wide Range of Products Offer Something for Every Tech Enthusiast's Toolkit
DOVER, NJ, October 2, 2015
–
Casio America, Inc.
, a leading consumer technology manufacturer, is celebrating Techie Day, a day that commends all the techies in the world who truly embrace the "geek" culture and enjoy all features of technology. Taking place annually on October 3rd, Techie Day was created in 1999 to encourage students to learn more about careers in technology and the impact that technology has on today's innovations. Casio's tech products fit in all aspects of consumers' lives including time spent in the classroom, on an outdoor adventure, or just spending time with family at home. "Casio has always been synonymous with innovative technology and we have a long history of bringing cutting edge products to the market that speak to every level of technology consumer, from curious students to tech experts," said Shigenori Itoh, CEO of Casio America, Inc. "Casio's full portfolio of products including calculators, timepieces, keyboards, and projectors offer advanced features and capabilities for everyone in easy-to-use and practical packages."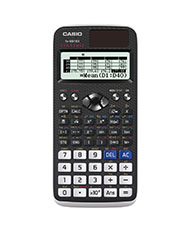 For the Mathlete
Casio's
CLASSWIZ fx-991EX
helps students prepare for any mathematical equation. Typically a function reserved only for graphing calculators, Casio's
CLASSWIZ fx-991EX
scientific calculator features a basic spreadsheet function that allows users to create spreadsheets of up to five columns and 45 rows for a maximum of 170 data items. The high-resolution screen comes equipped with natural textbook display, and it features an intuitive icon display for quick and easy access to key functions. The CLASSWIZ fx-991EX can also perform advanced mathematics including 4x4 matrix calculations, simultaneous equations with four unknowns and quartic equations, advanced statistical distribution calculations, metric conversions, as well as integration, differential and ratio equations.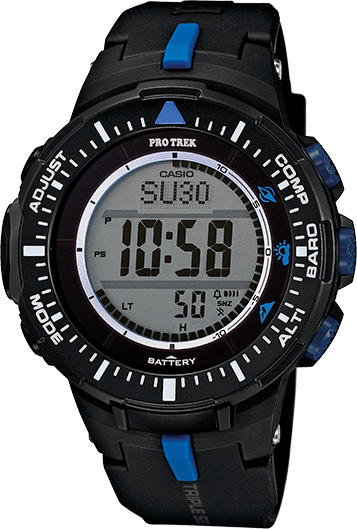 For the Outdoor Techie
Techies can stay one step ahead of Mother Nature with Casio's Solar Powered
PRO TREK
PRG300
. The PRG300 incorporates Casio's Triple Sensor Version 3 engine which provides outdoor enthusiasts with more accurate data readings to help navigate through any excursion. The timepiece includes a direction sensor and pressure sensor for compass capabilities, as well as altimeter/barometer readings. With Casio's Tough Solar Power Technology, users can charge the
PRG300
in low or fluorescent light, eliminating the need for continuous battery replacement. Other key features include water resistance up to 100 meters, low temperature resistance, world time in 48 cities, four daily alarms, sunrise and sunset data, and a power saving function that allows the watch to power down when not exposed to light for a certain period of time, thus conserving energy.

For the Budding Musician
Casio's newest digital piano – the
Compact Grand Piano™ (CGP-700)
– comes equipped with a variety of technological features including a Color Touch InterfaceTM (CTI), which is a premium 5.3" color graphic touch display. This easy-to-use screen acts as an all-inclusive hub for everything on the
CGP-700
, including built-in rhythms, tones, and effects. Other key features include a unique 3-way speaker system proving superior power with dual 20 watt amplification, 550 newly developed built-in tones, 200 new rhythms utilizing new drums and percussions, a new inserts and systems effects engine, and two headphone jacks on the front panel.
For the Techie Teachers
The
EcoLite™ XJ-V1
is perfect for techie teachers who want their students' viewing experience to be bigger and better. Whether they are watching a documentary, or projecting mathematic equations, this projector provides both teachers and students with the benefits of Casio's LampFree® technology in a budget-friendly package. The
XJ-V1
is powered by Casio's LASER & LED Hybrid Light Source, which combines a laser, fluorescent element and LEDs to generate high brightness and a 20,000 hour estimated lifespan with minimal brightness degradation and continuous operation. Compared to traditional lamp-based projectors, the EcoLite provides a 30 percent increase in LED light output, thus offering a greater increase in color spectrum, and consumes half the amount of power per unit. Casio's LampFree® technology also eliminates the need to replace expensive and hazardous mercury lamps, making them cost effective and safer for the environment. For additional information on Casio's full portfolio of products, please visit
www.Casio.com
.
About Casio America, Inc.
Casio America, Inc., Dover, N.J., is the U.S. subsidiary of Casio Computer Co., Ltd., Tokyo, Japan, one of the world's leading manufacturers of consumer electronics and business equipment solutions. Established in 1957, Casio America, Inc. markets calculators, keyboards, digital cameras, mobile presentation devices, disc title and label printers, watches, cash registers and other consumer electronic products. Casio has strived to fulfill its corporate creed of "creativity and contribution" through the introduction of innovative and imaginative products. For more information, visit
www.casio.com
.
###