FOR IMMEDIATE RELEASE:
MAKE THE MOST OF SUMMER BUSINESS SEASON WITH CASIO
Casio's Electronic Cash Registers and Desktop Calculators are Ideal Tools for Summer Businesses
Dover, NJ, May 26, 2016
- With Memorial Day and the official start of the summer business season just around the corner,
Casio America, Inc.
is helping seasonal businesses seamlessly operate by providing business owners with the best technology available. From pop-up ice cream shops to boardwalk stores, Casio's full portfolio of electronic cash registers, printing calculators, and desktop calculators provide business owners with the essential tools they need to run their stores smoothly this summer "Casio recognizes the importance of small seasonal businesses and the job opportunities they provide in the summertime, which is why we want to supply them with the finest technology," said Yuji Sasajima, CEO of Casio America, Inc. "Casio's full portfolio of electronic cash registers and calculators offer advanced features and capabilities that are not only practical for business owners, but also easy-to-use."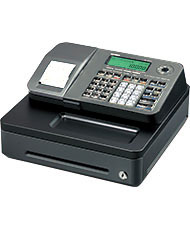 Cash Registers
Casio's SE-S100 line of
electronic cash registers
are perfect for small and medium-sized businesses, with SD Card compatibility that enables business owners to easily transfer sales data from a PC to the SD card. The line also has the ability to store up to 2,000 price look ups (PLUs) and includes an electronic journal function, allowing sales transactions and history to be stored in built-in memory and recovered later if needed. The SE-S100 line also features a large backlit two-line LCD display that enables the business owner to easily read the items on the check-out display, and a built-in one-line rear customer display, which allows customers to observe and confirm transactions as they are happening. Other key features include an easy-to-use keyboard, and quick access buttons to pull up frequently used functions. The SE-S100 line is available in three different metallic colors including gold, silver and red.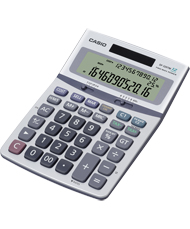 Desktop and Printing Calculators
Casio's
MS10VC
desktop calculator offers a variety of enhanced features necessary to help with budgeting for any business such as an extra-large display, time and tax calculation, two-way power and a profit margin percentage. This 10-digit Solar Plus calculator is available in an array of colors, including blue, green, orange, pink, purple and yellow. Additionally, the
DF-320TM
desktop calculator includes a 3-line display, combined solar and battery operation, and tax and currency exchange functions. This 12-digit calculator also boasts an independent memory and can solve cost, selling price and margin calculations. Ideal for business owners of any size, Casio's
HR-100TMPlus
is a12-digit printing calculator with a large, easy-to-read display. This model can print 2.0 lines per second and offers special tax keys for tax calculations. It enables 2-color printing in which positive entries are black and deductions are red. Additionally, it includes an adaptor or it can run off of four AA batteries. For a more heavy duty printing calculator, the
HR-8TMPlus
is a portable printer that features large input keys, 1.6 lines per second, function command signs, and includes an adapter. For additional information on Casio's full portfolio of products, please visit
www.Casio.com
.
About Casio America, Inc.
Casio America, Inc., Dover, N.J., is the U.S. subsidiary of Casio Computer Co., Ltd., Tokyo, Japan, one of the world's leading manufacturers of consumer electronics and business equipment solutions. Established in 1957, Casio America, Inc. markets calculators, keyboards, mobile presentation devices, disc title and label printers, watches, cash registers and other consumer electronic products. Casio has strived to realize its corporate creed of "creativity and contribution" through the introduction of innovative and imaginative products. For more information, visit www.casio.com.