A fusion of traditional techniques
and innovative technology.
A supreme gem embodying eternal time.
A sophisticated slim style with a 9.3mm case and a bezel and dial decorated with platinum maki-e lacquer. The traditional "Kyomakie" technique and the advanced functional beauty pursued by Oceanus are elegantly matched with the two Japanese prides.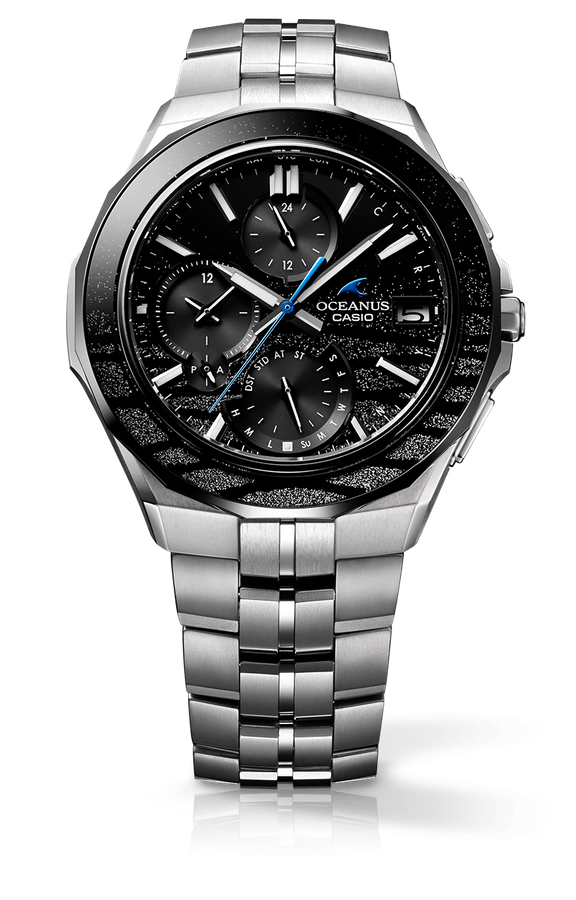 OCWS5000ME1A
LEARN MORE
Additional Oceanus Models
Maki-e finish expressing the sparkle of water
The bezel and dial are made of sapphire glass and finished with platinum powder Maki-e. Based on the design concept of "maki-e bokashi nukizome wave-patterns," a delicate gradation revealed by Kyoto maki-e artist Yutaro Shimode, the timepiece expresses the flow of water and creates a unique world view. Every aspect of the processes and materials, from the type and size of powder used to the density of the sprinkles, highlights the skill and sensitivity of the craftsman.
Kyoto Maki-e Artist Yutaro Shimode
Yutaro Shimode is the third generation of the Shimode Maki-e Shisho, a maki-e studio that has been operating in Kyoto for over 100 years. Inheriting traditional techniques, he produces mainly maki-e and repairs and restores furniture. He is a traditional artisan and professor emeritus at Kyoto Sangyo University.
Maki-e
Makie is a traditional lacquerware technique that developed uniquely in Japan and has a history of over 1200 years. After lacquering, which is the process of "painting" pictures and patterns on the surface of a vessel with lacquer, gold, silver, and other metal powders are sprinkled on the surface before the lacquer dries to set the patterns. The delicate handiwork of artisans creates maki-e, which is highly valued as a work of art.
Original manufacturing methods underscore the beauty from within.
A unique process was devised to apply maki-e to the bezel and dial. When viewed from the surface, the outline of the maki-e powder and the beautiful sparkle stand out.
Titanium Carbide Finish & Sallaz Mirror polishing
Pure titanium that has been treated with titanium carbide is employed to harden the metal s surface. Craftsmen use the preeminent polishing technique, called Sallaz polishing, to the bezel, band, and case beveled edges to bring forth a high luster and smoothness.
Comfortable "Pure Titanium Band"
A pure titanium band, made of multiple, uniquely shaped links are highly polished before assembly.
9.4 mm thin - an innovative,
slim style that is the result of advanced technologies
Mounting technologies and improvements in design and structures reduced the module's thickness. Innovative high-density packaging technology has enabled installation of Bluetooth®communication and Multi-Band 6 radio-controlled technologies in a less-than-10 mm slim case.
Sapphire crystal with double-sided, non-reflective coating
ACCURATE TIMEKEEPING via Bluetooth® and Multi-Band 6 radio-controlled technology.
OCEANUS Connected

Free

OCEANUS connected app
Main functions
• Watch Status
Graphical display of the time-reception status, solar power generation status, and internal data update history.
• Self-Check Automatic evaluation of watch functions' operational status
Displays a screen alert in the case of malfunction.
• Automatic time adjustment
• World time for over 300 cities
• Phone Finder