Learn more about Casio's Pro Series Projectors
CASIO HYBRID LIGHT SOURCE
By combining a laser, a fluorescent element and LED's Casio has created an original mercury-free hybrid light source capable of generating high brightness. Red is emitted by a high-lumen red LED. Blue is emitted by a high lumen blue LED. Green is achieved by converting blue laser light using a phosphor element.
*The Casio Hybrid Light Source can only be replaced by the Casio Factory Service Center. Disassembly of the projector and/or use of its technology or components for other purposes is potentially dangerous and strictly prohibited.
MERCURY FREE LIGHT SOURCE

Provides 10X longer light source life than Casio's mercury lamp while being more economical based on lamp replacement. The Casio Hybrid Light Source projector features quick startup and shutdown. The projector reaches its maximum brightness in a minimum of 8 seconds and requires no cooling down period.
SUPERIOR COLOR, HIGH BRIGHTNESS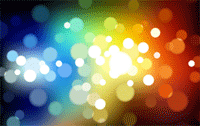 The Casio Hybrid Light Source projectors delivers a 50 percent increase in color spectrum for high impact presentations due to improvements in LED and laser technology. Superior color reproduction enhances color purity allowing visual effects to appear brighter and offering powerful images that conventional projectors cannot match.
COST EFFECTIVE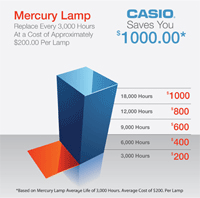 Compared with conventional high-brightness projectors employing mercury lamps, Casio Hybrid Light Source technology cuts costs as well as the time and effort involved in lamp exchange while maintaining clear, high-quality images over an extended period. The LampFree® design is backed by a comprehensive 3 year warranty including the light source; users can expect reliable worry free operation from the Casio Hybrid Projectors.
WXGA

The native WXGA (1280 X 800) resolution of the Slim projector allows for optimal viewing of content created and formatted for today's widescreen displays. Whether it is viewing a spreadsheet or two applications side by side, the WXGA Slim projector provides more useable screen area and displays more information on the same screen. Widescreen display formats have become the standard and now your projector can match the widescreen display of Notebook PC's and HD Video sources.
CASIO PROJECTORS ARE READY FOR DLP 3D READY PROJECTION

Add the excitement of dynamic DLP 3D Ready projection to your business and education applications. Casio projectors can display DLP 3D Ready content from a 3D capable computer and with the optional 2D-3D conversion software convert and view 2D composite video content. Active Shutter DLP 3D Ready glasses and software required and sold separately.
DLP 3D Requirements:
3D compatible PC (desktop or laptop) Requirements* for DLP 3D Ready (DLP Link) :

PC Requirements: Microsoft : Microsoft© Windows© Vista™ (32 bit), XP (32 bit) SP2 or equivalent
Operating System: Windows XP or Windows 7
CPU: Intel® Core™2 Duo and higher required. 1GB memory or higher (2GB recommended). Recommended 1GB hard disk space
Graphics Card Requirements:

Laptop: nVidia Quadro Graphics card or equivalent, must be Quad Buffered and Open GL 3D
Desktop: nVidia FX580 or higher

Software: DirectX® 9.0c or equivalent; Windows Media Player 11 or equivalent.
*Requirements subject to change.
Please note that CASIO DLP 3D ready projectors are not compatible with Blu-ray™ players.
Q.) Can I connect a 3D Blu-ray player to the projector
A.) No, the projector can only accept a 3D signal from a compatible 3D computer (See PC requirements Here)
Q.) Can I use any3D glasses for 3D viewing?
A.) Only Active Shutter DLP Link glasses will work with Casio DLP 3D Ready projectors.
Q.) Where can I purchase compatible DLP 3D Ready active shutter glasses?
A.) CASIO offers DLP Link compatible Active Shutter Glasses, Model YA-G30 ($129.99 per pair)
Learn more about DLP 3D, click here.
3D resources , click here.
AUTOMATIC BRIGHTNESS ADJUSTMENT

Auto brightness adjustment saves power and reduce eye fatigue.
VALUE AND A GREAT WARRANTY

Costly bulb replacement is a thing of the past. Casio provides a 3 year warranty on the projector and 3 years or 6,000-hour usage on the light source.