G-SHOCK Introduces Virtual World Collection with Trio of Virtual Reality-Inspired Watches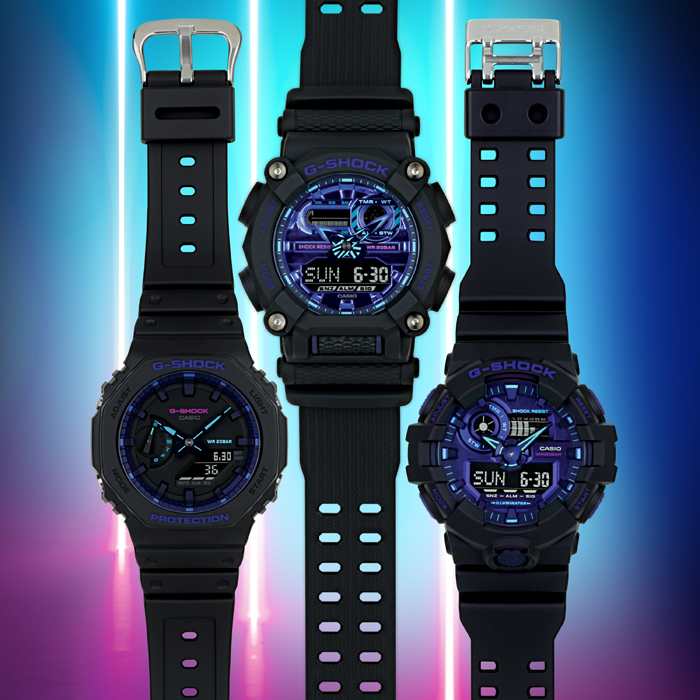 FOR IMMEDIATE RELEASE:
G-SHOCK INTRODUCES VIRTUAL WORLD COLLECTION WITH TRIO OF VIRTUAL REALITY-INSPIRED WATCHES
Three New Models Arrive in G-SHOCK's Most Popular Silhouettes Featuring Vibrant and Futuristic Colorways

DOVER, NJ, November 2, 2021— Today, Casio announces a new line-up of men's G-SHOCK timepieces, the Virtual World collection. Inspired by the growing popularity of today's virtual experiences, it evokes a sense of digital culture and aesthetics via minimalist black bezels and bands that are accented with vibrant blue violet coloring on the dials.
The new Virtual World collection brings G-SHOCK's analog-digital lineup into the style of virtual reality, capturing the lively color combinations as seen in virtual reality concerts, events, and video games. They feature the signature toughness and designs of G-SHOCK's most popular models: the GA2100, GA700, and GA900. The striking, bold blue violet color on the dials of each watch contrast with the black band and bezel to allow the wearer to show off a look that is from another world or time.
Each timepiece of the Virtual World collection upholds the premium design and technical features found on its base models. The GA2100VB-1A features a standout octagonal bezel and thin case featuring a carbon core guard structure, as well a unique light fadeout feature on the dial, while the upholds the premium design and technical features found on its base models. The GA700VB-1A and GA900VB-1A both sport large, rugged cases with metallic dials, hand shift functions, and more. The GA900VB-1A also features black ion-plated screws at the corners of its bezel. All three of the watches include Super LED backlights for enhanced readability, among additional capabilities.
As part of the release, G-SHOCK has unveiled an exclusive landing page taking consumers through the collection, which can be viewed here.
The new timepieces come equipped with G-SHOCK's technical features including:
Shock Resistance

200M Water Resistance

5 Daily Alarms (GA700/GA900 with SNZ Alarm)

1/100 Second Stopwatch

Countdown Timer (GA2100: 24Hr; GA700/GA900: 1Hr)

World Time (31Time Zones, 48 Cities+UTC)

Full Auto Calendar

The GA2100VB-1A will retail for $99, the GA700VB-1A will retail for $110, and the GA900VB-1A will retail for $140. All three models will be available for purchase mid-November at select G-SHOCK retailers, the G-SHOCK Soho Store and gshock.com.

# # #